I'm wrapping up my little one's birthday celebration by telling you about the activities.  We already spoke about the penguin cake and party favors in previous posts.
Last year we had her party in our apartment – 16 kids plus parents.  There was no way I wanted to do that again!  Too much cleaning and way too crowded!
We looked at different places to have it and then my mom mentioned California Pizza Kitchen.  I didn't even know they did parties!  I called them up, spoke about what they do, checked the website, and fortunately they had the date I wanted (and the price was right) so I booked it.
CPK does one party a day and they start it an hour before the restaurant opens.  This works out perfectly if you have little ones because then you don't have to worry as much about them running around.  We had a section all to ourselves and once everyone got there, they ordered drinks.  The activities started with all the kids decorating their own chef's hat.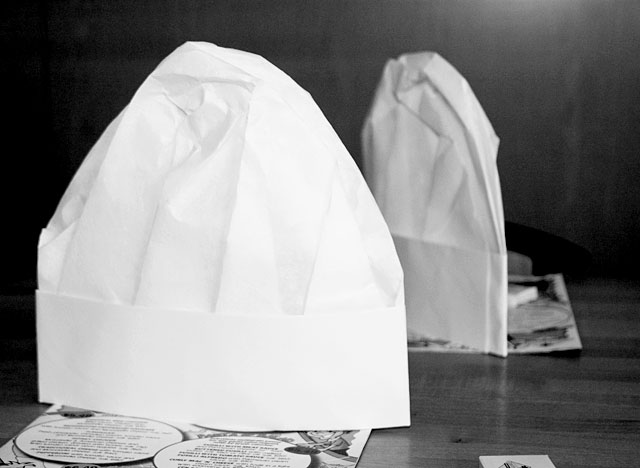 CPK provides both the crayons AND the hats!  The birthday kid also gets a chef's coat but in our case, they didn't have them in stock so they gave her an apron instead and said they'd mail us the coat when ti came in.
Next up they bring each kid a partially cooked pizza accompanied by different toppings.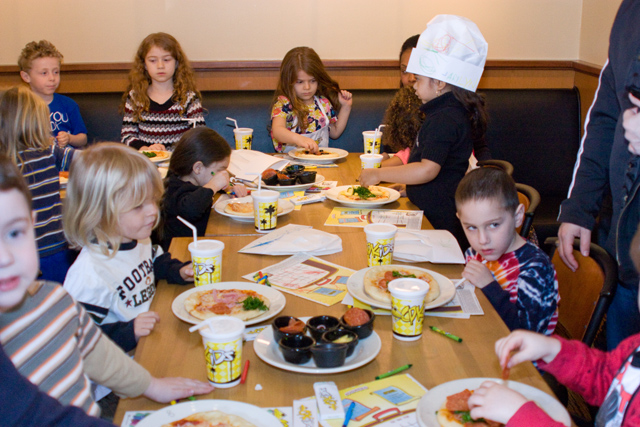 The kids get to decorate their own pizza.  It wa really amusing to see different personalities come out in the type sf toppings they chose and how they decided to decorate.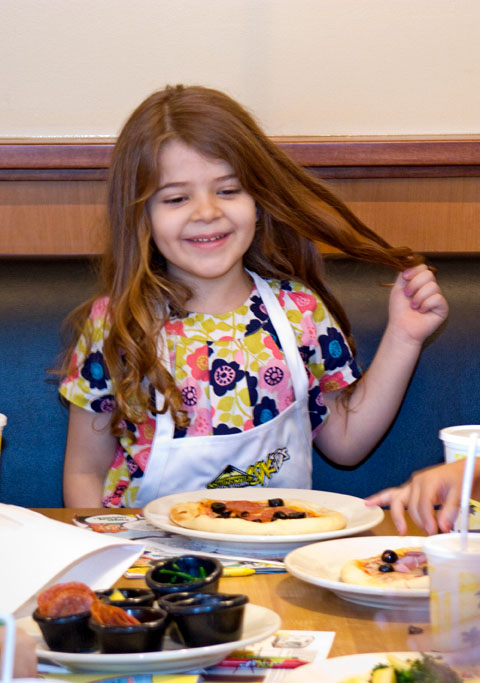 The pizzas are then taken away to finish cooking and then the kids get a tour of the restaurant.  This was my favorite part!
It was so cute – they all had to line up and were brought around the different parts of the restaurant – even in the back where they can see prep work and see where the pizzas are being cooked.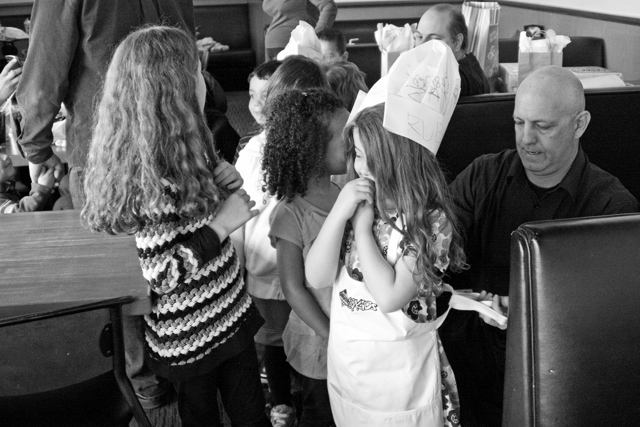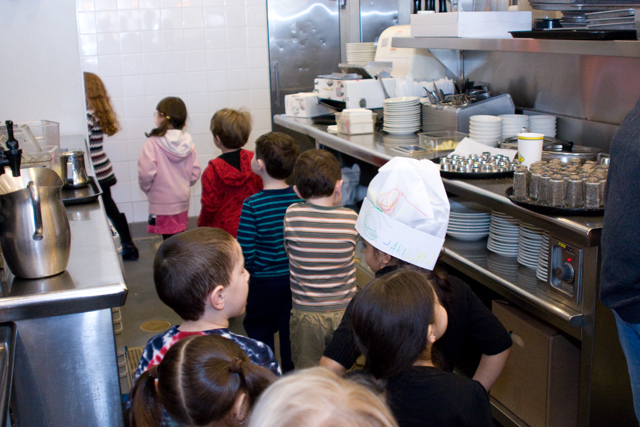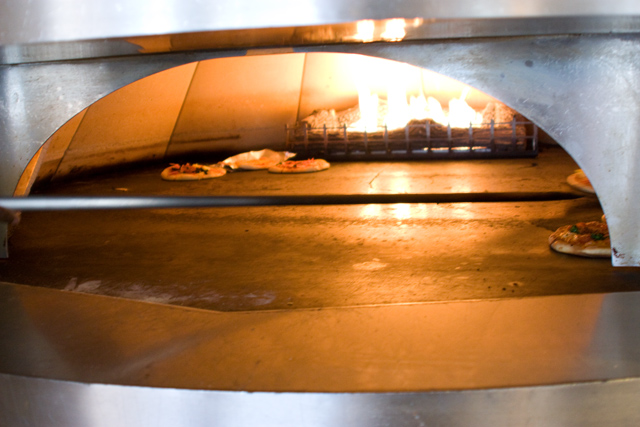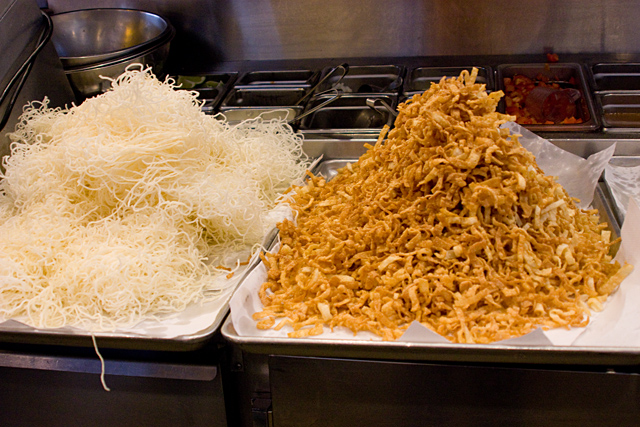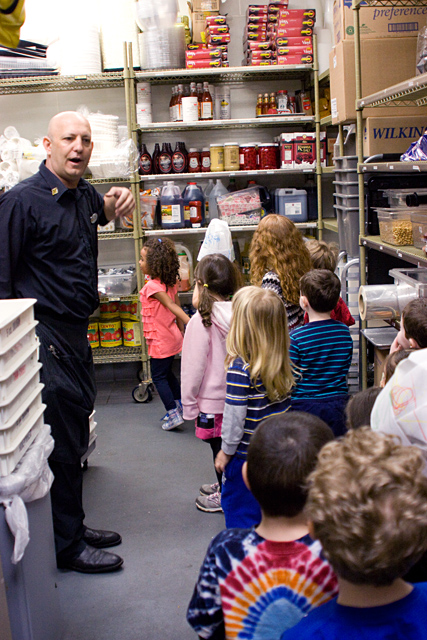 The funniest was when they got to check out the freezer!  "Ahhhhh!!!  It's cold in here!!!"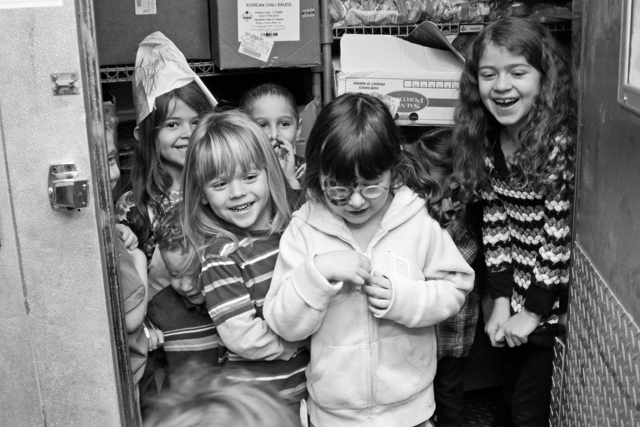 By the time the tour was over, the pizzas were ready.  Perfect timing!!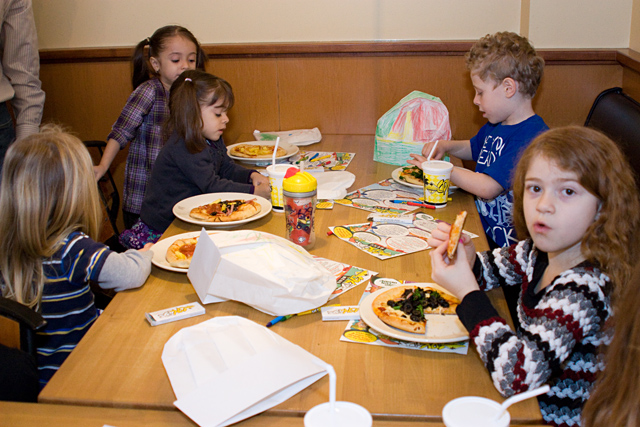 Vegetable girl hogged up all the broccoli!
I was anticipating that there may be some lulls in the party in between the activities so I came armed with backup.  I brought a "Curious George and The Pizza" book and had the hubbs read it to the kids.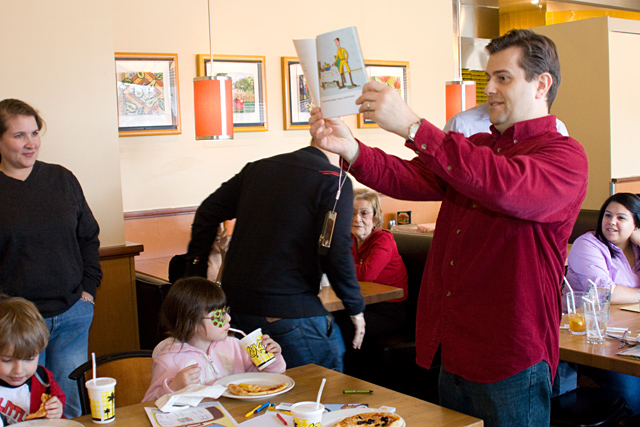 I also stayed up late the night before making up a pizza bingo game but we never ended up getting to it.  I'll keep it as  backup for a playdate.
After eating their pizza, the kids got to enjoy some sweet treats – make their own ice cream sundaes!  Pizza and ice cream, how could we go wrong?!?  The kids were each brought out a cup of vanilla ice cream with different toppings.  Some went crazy and others were more conservative. 
Sincee they weren't sugared up enough from the ice cream, we wanted to really put them over the edge with the cake.  You can't have a birthday party without cake!!  We sang happy birthday but my daughter decided ot blow out the candles during the song so I never go the shot.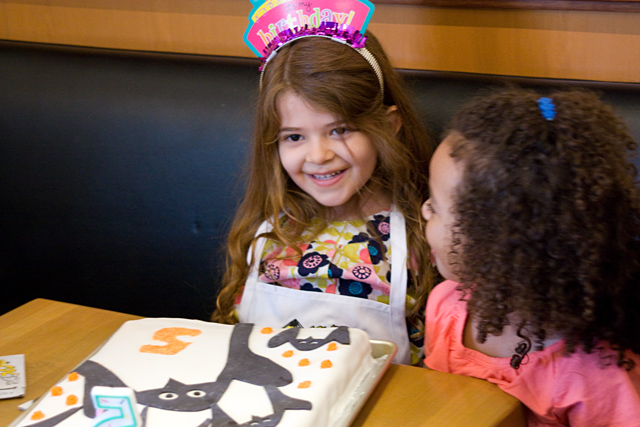 Next it was goody bag time and party over!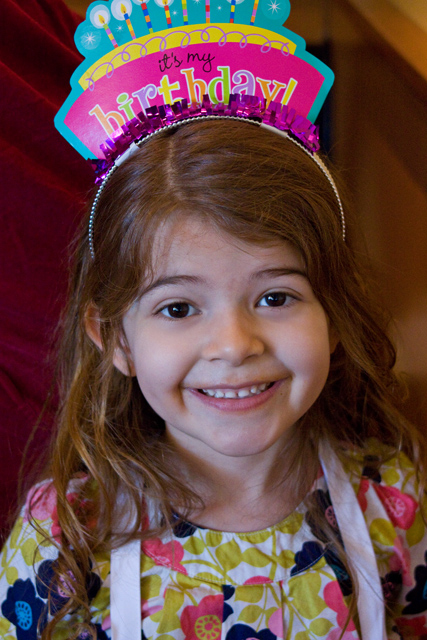 Just in time for all that sugar to kick in.  Parents just love me.
Back home we opened presents.  Funny when watching kids open gifts, it's all about the act of opening and not really what the gift is.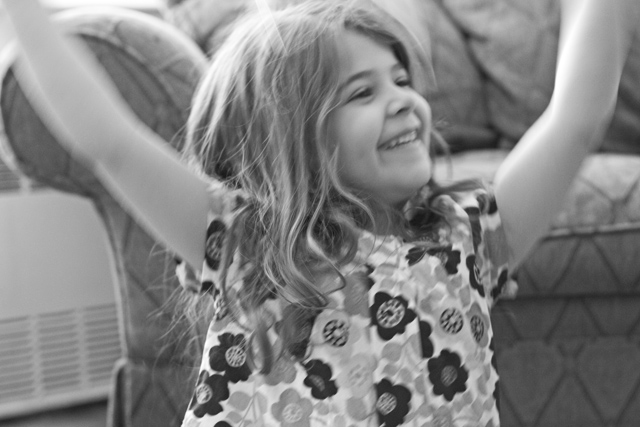 I have to say, I find it difficult to juggle everything during a party.  I want to get great photos, but I'm also the host which means making sure everything is running smoothly, keeping the kids happy, chatting with the parents and basically being pulled in a million different directions at once.  On the flipside, I've been to birthday parties where I was only the photographer.  The parents were able to focus on the party and know they'd have memorable photos that captured the story of the event. 
Next week I'll show you photos from a recent birthdya party that I shot and you'll see the difference.
How do you handle your kid's birthday parties?  Do you go all out?  Which reminds me there's a new show called Outrageous Kid Parties.  Have you seen it?  So over the top!