This weekend we celebrated my little one's 5th birthday.  It's funny how birthDAYs have turned into birthWEEKENDS!  Have you noticed that with your kids?  It seems to always be a 3 part celebration –  a party in school, a family dinner with cake, and then a party with friends.  I have to tell you – it's EXHAUSTING!!!
I decided to break it down into several smaller posts rather than overwhelming you with one long giant birthday post.  I'm going to start with my favorite part of party planning – the cake!!
Now, my girls are completely different when it comes to what they want for their cake.  My 7 year old girlie girl has had cake designs like Sleeping Beauty, rainbows, butterflies, Barbie, and  Hello Kitty.  My little one on the other hand had Elmo, Batman & Robin and Spongebob.  I know – you wonder how 2 sisters could be so different!!  So, i wasn't really surprised when this year she requested "all superheroes with king kong and dinosaurs". 
For at least a month I had been planning the cake design in my head – thinking I'd get the hubbs involved this year to help me draw out the superheroes, and then I'd sculpt King Kong and a dinosaur out of fondant and put them on top of the cake.  It wasn't until a few days before her party that she made this grand announcement."I want a penguin cake!"
WHAT?!?!?!?!?!?
She LOVES penguins!!  On one hand I was relieved because I knew this was going to be a much easier cake design, but on the other hand, I was already sold on the other design and looking forward to the challenge. No time to dwell, just had to switch gears, and fast!
The penguin cake was going to be for her party with her friends which was on Sunday.  For her class party we got donuts from Dunkin Donuts and for the family celebration, the girls made cupcakes and I made brownies.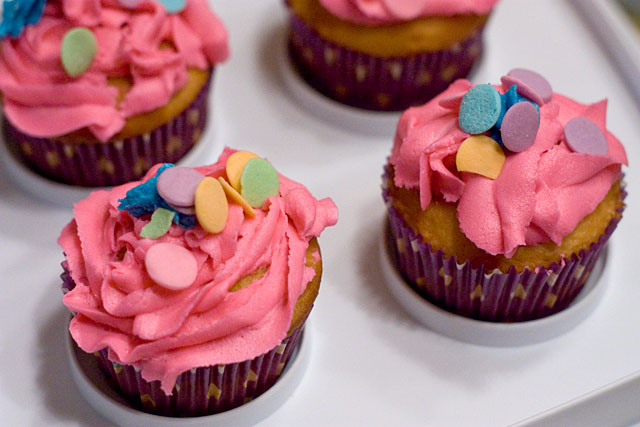 So, I really didn't have much time to work on the penguin cake – only Saturday night.
I find that I am most creative when I'm under pressure.  It doesn't work for me when I have all the time in the world to think of things.  How about you?  When do you find you are most creative?
So, it hit me on what to do.  She has a favorite book called 365 Penguins.  We've read it at least a hundred times.  It's actually a great book and I highly recommend it because they're actually learning about the planet and ice caps without even realizing it.  So that is where I drew my inspiration from.  And this is what I came up with…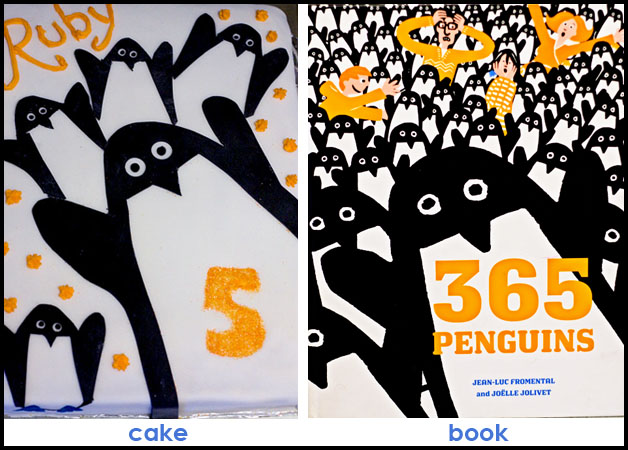 In the book there's a penguin name Chilly – he's  the only one with blue feet so of course I had to include him in the design.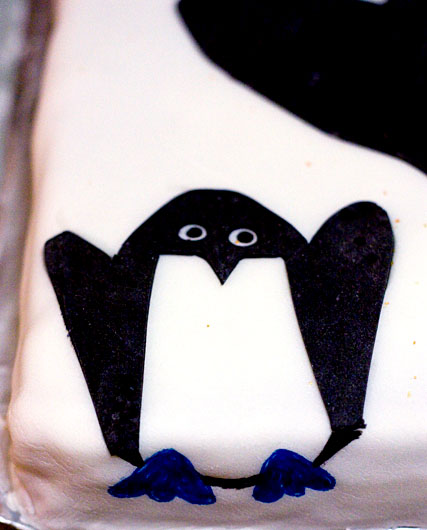 I basically covered the cake in white fondant and then freehand cut out the penguins in black fondant.  I drew the blue feet on with edible markers, used orange buttercream and sanding sugar for the rest of the decorations.  The book only uses those 4 colors – black, white, blue and orange so that's what I decided to stick with.
In the morning when she woke up to get ready for the party, while holding my breath in anticipation, I showed her the cake.  She loved it!  Whew!!!  I can breathe and the lack of sleep I had was so worth it!
More party details to follow…