Every Monday I teach an after school class for kids in Kindergarten through Second Grade called Young Crafters.  We did this turkey craft project last week but since then my younger daughter (also a second grader) has been going to town with it.  We have turkeys everywhere and she's still not done!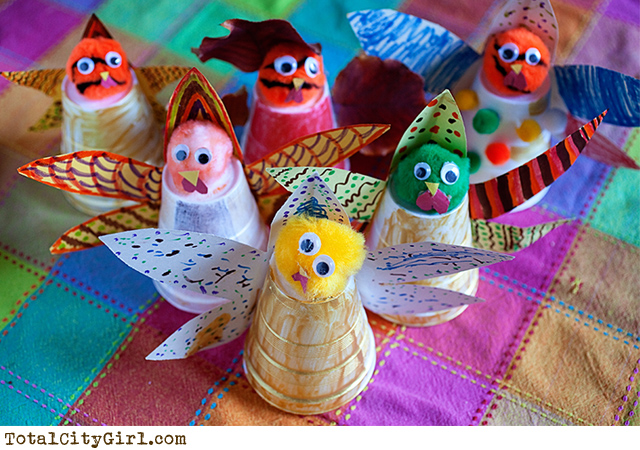 Since she liked it, I thought I'd share it here since tomorrow is Thanksgiving.
This is what you'll need: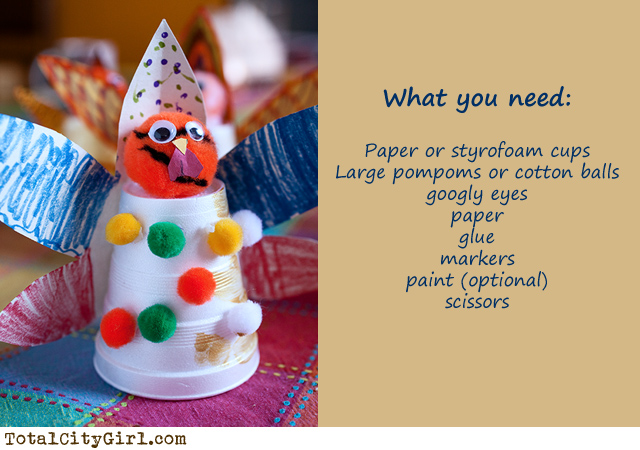 Most of these items you may already have at home.
For the body of the turkey you can use either  a paper or Styrofoam cup.  We used Styrofoam.  In class, because of time constraints, I had them use markers to decorate the body rather than paint.  At home my daughter used paint.  The marker comes out light – you won't get a deep color from it.
For the head we used a large pompom or cotton ball.  When we used a cotton ball, we colored it with a marker.  The face was made from googly eyes, a yellow triangle for the beak and the red wattle thing is an upside down heart.  Beak and wattle are made from construction paper then glued onto the pompom head.
The head is then glued to the bottom of the cup which in this case is actually the top.
For the feathers, I took a light colored piece of construction paper, folded it in half, then half again.  I drew a pattern on one side then cut it out.  Here's a visual…

I did this ahead of time for the kids just to speed things up a bit.
Next decorate the feathers using markers, crayons or paint.  Make any pattern you want.  Go crazy!!
Glue the feathers to the back of the body.
You can also make feet.  We made them in class but my daughter opted out of feet for her turkeys.
She really customized each of them.  Some she painted, others she decorated with smaller pompoms, and she even used leaves that she collected from outside to use as feathers.  That's the great part about this and most craft projects – let your imagination be your guide!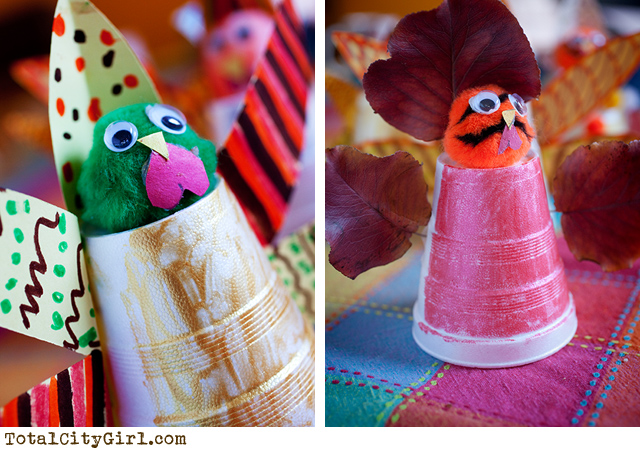 These would make fun place cards for your Thanksgiving table – just customize each one with your guests name on the front.   It would also be a great activity for the kids to  keep them busy if you plan on being in the kitchen most of the day!
Have fun!
The project was inspired by this project at Spoonful.com but I modified it for my class.