A couple of weeks ago, the stars were in alignment.  My girls were having a sleepover at my mom's, the hubbs and I were available for a date-night, and we BOTH agreed on Indian food.   A rare occurrence on all 3 counts!
We decided to go down to the East Village, specifically 6th Street to get some Indian food.  6th Street s FILLED with Indian restaurants!   It's really interesting how NY is divided like that. Makes it really easy if you want something specific with lots of choices!
We ended up at a restaurant called Gandhi. I hadn't had Indian in a long time so I was really excited! In between stuffing my face, I managed to get a few photos in with the good old iPhone.
First up is papadam – the main reason I love Indian food! Papadam is thin, crispy, crunchy and spicy! All qualities I look for in my food!  I can eat an entire basket by myself but this night I had to share.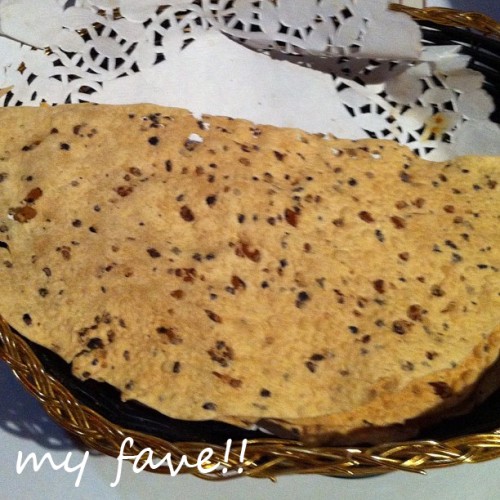 Three condiments are usually served with papadam – I mix the spicy and sweet for a perfect balance. I stay away from the green one!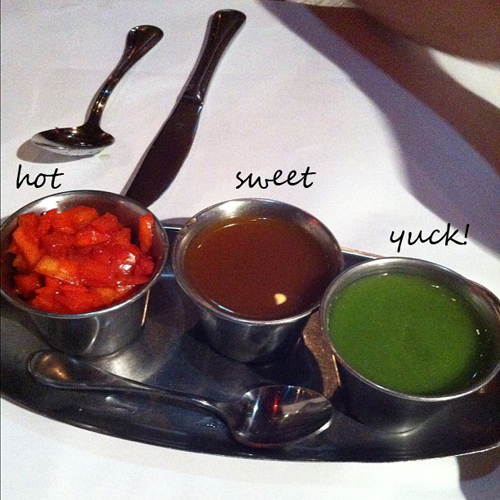 We also had a vegetable samosa which is like an Indian version of a knish except in triangle form, filled with potatoes and peas. Normally quite spicy but at Gandhi it was mild but still flavorful with a hint of curry.
For the main meal I ordered what I ALWAYS order – Chicken Vindaloo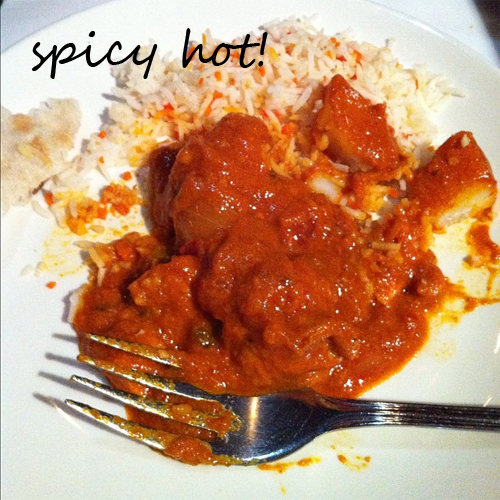 and the hubbs had Chicken Tandoori Musallam. If you like hot and spicy, you have to try Vindaloo. It's pieces of white meat chicken, chunks of potato and a few pearl onions mixed in this heavenly spicy sauce. Be prepared though – make sure you have lots of tissues handy! Nose running, eyes watering, but the taste is all worth it!
The Tandoori Musallam was REALLY GOOD also!  The sauce tasted like a sweet creamy tomato bisque. When I needed a relief from the heat of vindaloo, I took a swipe of the Musallam.
To sop up the sauce we had an order of Garlic Nan – fluffy Indian bread. A must with your meal!
By the end of the meal we were busting! Then the check came….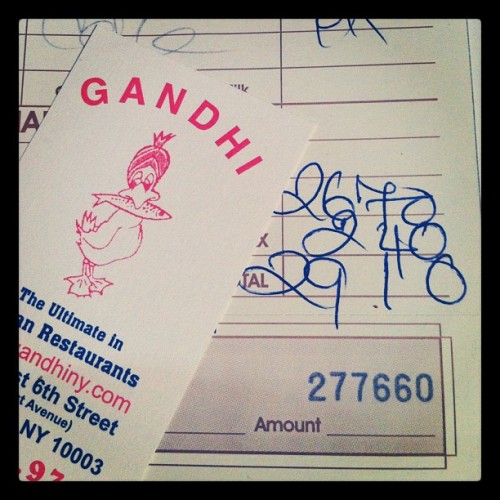 All that food for less than $30!
So, if you're in the mood for Indian food, I definitely recommend heading down to the East Village.
Gandhi
345 East 6th Street
NY, NY  10003
What are your favorite Indian restaurants?