My 8 year old LOVES to read!  She's in second grade and this year her reading level has skyrocketed!  I love how she'll just read on her own without being told to do so.  When she comes across a word she doesn't know, she stops to ask how to pronounce it and what the meaning is.  She's a total geek and proud of it!
In contrast  to my older daughter who if her homework says "read for 30 minutes" will actually set a timer and won't  read a second more.  I don't know how that happens in a family.  Just shows how each person is completely unique and individual.  Ask her anything about any movie though and she'll be able to tell you.
I thought I'd share a few of the things my younger one is currently reading.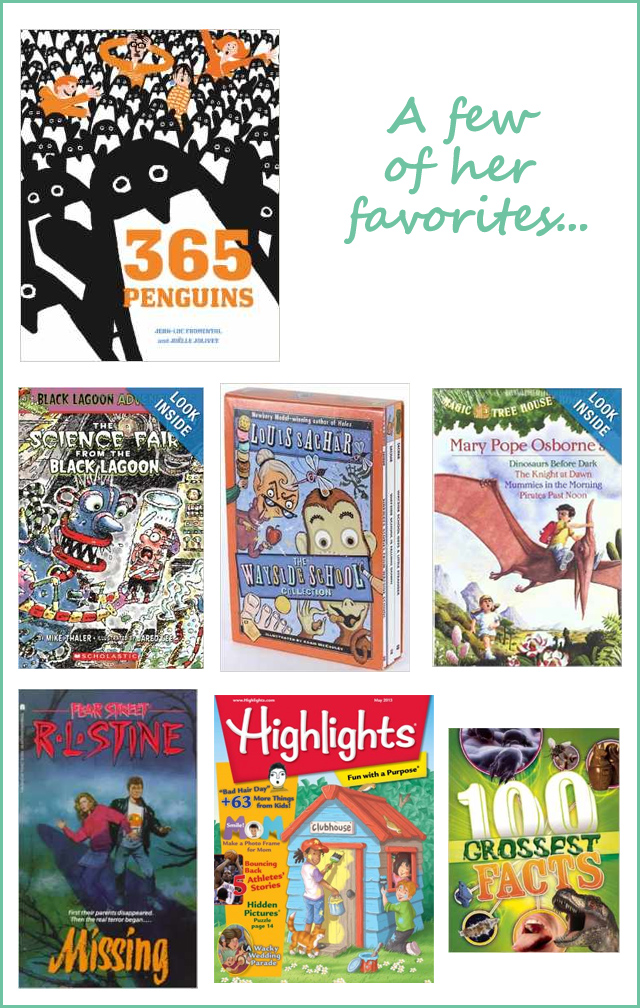 365 Penguins – she's had this since she was younger but still picks it up.  Great story and the kids will learn something!
Chapter Books:  Black Lagoon Series, Wayside School Series, Magic Tree House Series, Missing (and other R.L. Stine books)
Highlights Magazine – comes in the mail so that's always fun!  I remember always reading this at the doctor's office when I was a kid.
100 Grossest Facts – really gross!!
We love going to bookstores but honestly you can get a better price on Amazon.
What are your kid's favorite books or what were yours when you were a kid?  I personally loved Judy Blume books!