How excited do you think dads are to keep getting ties every year for Father's Day?  Snoozefest!
Your kids will probably make some craft project from school – definitely cute but wouldn't something that could last forever be even better?  I'm offering a few mini sessions just in time for father's day.  Since the sessions are 30 minutes, I'll be doing them locally here in Riverdale.  This session could be great for your immediate family (husband) or for your own father.  Think about it – as adults, when was the last time you and your siblings were photographed together?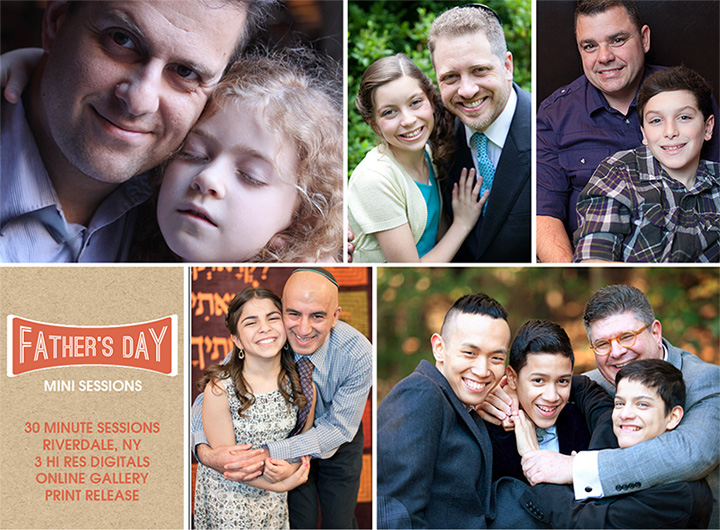 These are the time slots I have available:
Saturday June 4:   9:30am, 10:15am
Tuesday June 7:  7pm
Saturday June 11:  9:30am, 10:15am,
Sunday June 12:  9:30am, 10:15am, 7pm
Your photographs will be uploaded to an online gallery for viewing.  Gallery will be open for one week.  Your 3 favorites will be  will be lightly edited and available to download.  You can print those on your own wherever you want up to size 8X12 or I can handle the print orders for you.  All print orders placed by Tuesday June 14th will be ready in time for Father's Day.
Mini Session:  $250
Includes:
Pre Session Consultation by phone
30 Minute Session in Riverdale, NY
3 Lightly Edited High Resolution Digital Images Printable Up To 8×12
One Week Online Viewing Gallery
Additional digital images and prints available for purchase
ADDITIONAL INFO:
Contact me with any questions, to book a session and to request a full product menu featuring prints and digital options
Session fee must be paid in full in order to hold the time slot
Payment Options:  Debit/Credit Card – a secure online link will be provided
Email me to book your session!