The thing I love about frittatas is that pretty much anything goes.  When your kids are complaining that they're hungry and you want something easy to make, this is it!  It's also a great way to use up whatever you have leftover in the fridge – as was the case with this Bacon & Mushroom Frittata I recently made.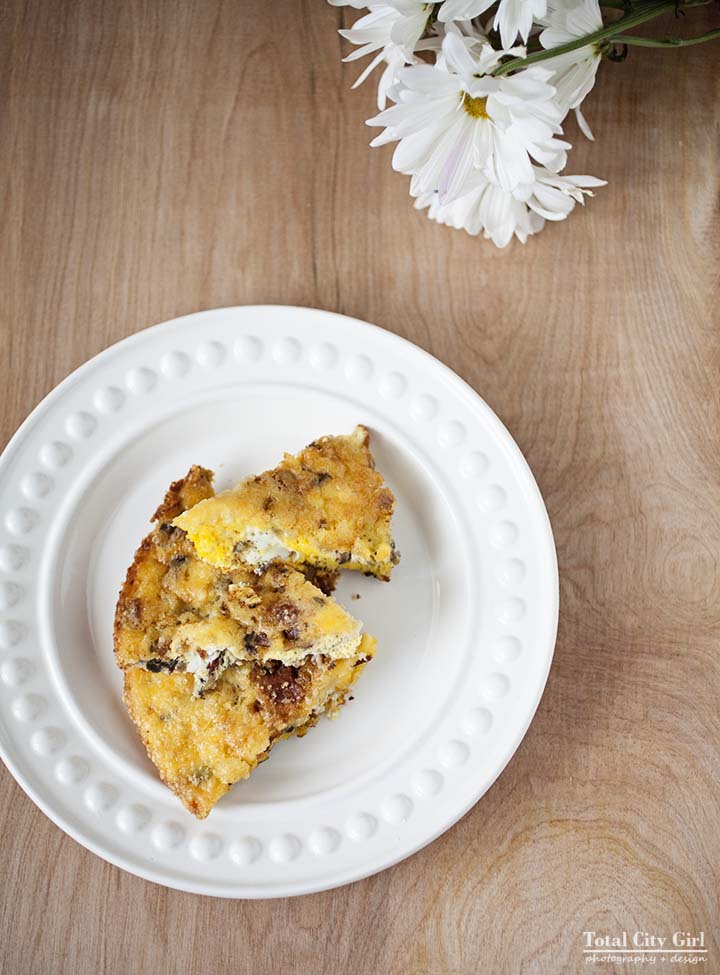 I really wasn't in the mood to cook but my girls were hungry so I looked in the fridge for ideas.  I saw half an onion, about a half of a container of white button mushrooms, a few slices of bacon and some cheddar cheese.  Oh yes – and eggs of course!
So the first thing I did was dice the onion and chop up the mushrooms and put them in a pan with a mix of butter and olive oil to start cooking them down.
In a separate pan I cooked the bacon – I think there were six slices but I ended up using 4 in the frittata.  That's what was left after I turned my back for a sec!
I grated up the white cheddar cheese – I ended up with about a cup and mixed it in a bowl with 6 eggs.
I added a little bit more of the olive oil to the pan (only do this if it seems a bit dry) and then poured in the egg/cheese mixture.
I crumbled the bacon and mixed that in as well.
Let it cook for a few minutes – 5 or so until you see the edges start to stiffen.  At that point I sprinkle some grated Parmesan cheese on top and put the whole pan in the oven at 350 degrees.  If you do this, make sure the pan is OVEN SAFE – no plastic handles – all metal.  If you don't have a pan like that just continue to cook on the stove top.
I cook it for about 20 minutes or so – I like the top to be golden brown.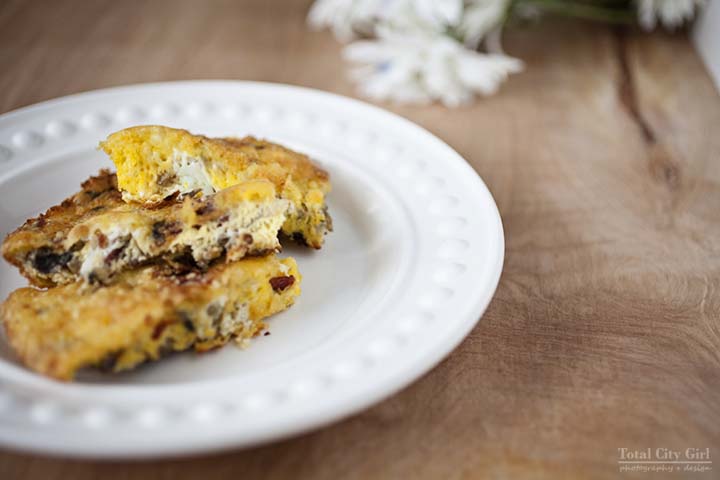 It was really good!  I had to warn them not to eat it all so I can have a few pieces to photograph!  Frittatas are good hot, cold or at room temp so it's a great dish to make ahead of time or for  a party.
What's your favorite frittata?  Do you like to experiment with different ingredient combinations?