With CInco De Mayo coming up I thought I'd share of few things that might inspire you to celebrate!  Today I'm sharing my recipe for Meatless Mexican Pizza.  I just love it!  Why?  It tastes good, and it's super fast and easy to make.  Always a plus in my book!
I love using flour tortillas in recipes – they're so versatile!  I have others I'll share another time.
The ingredients are few and simple – a  flour tortilla, one scallion, cheese, tomatoes and diced chiles.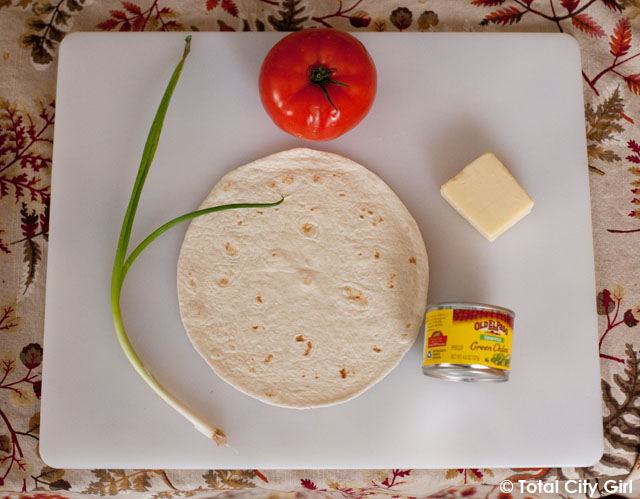 First set your oven to 350 degrees.
You can use a baking sheet to cook this on but I prefer aluminum foil.  Anything to minimize the amount of dishes I have to do!
I like the medium size flour tortillas.  I found with the smaller ones I would eat 2, and the larger ones are too big for one person but could work well if you are having a party or sharing with your family – you can cut them up into slices.
First brush on or just spoon on a half a teaspoon of olive oil on both sides of the tortilla.  This will help it crisp up as well as not stick to the foil.
Then I grate about  a heaping 1/2 cup of cheese. I prefer Canadian Cheddar or Monterey Jack  but you can use whatever you like.  You can also use the preshredded stuff as well.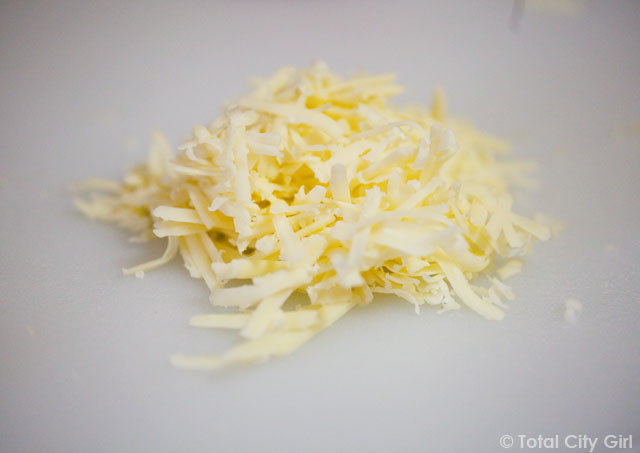 These chiles are great and they already come diced up for you  So easy!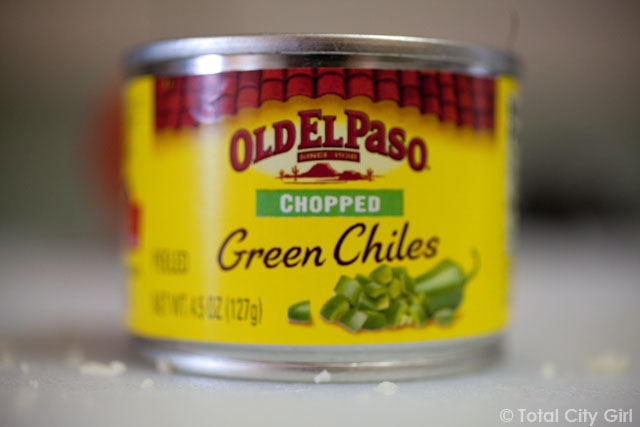 Sprinkle the cheese on the tortilla as well as the diced chiles.  Use as much as you want.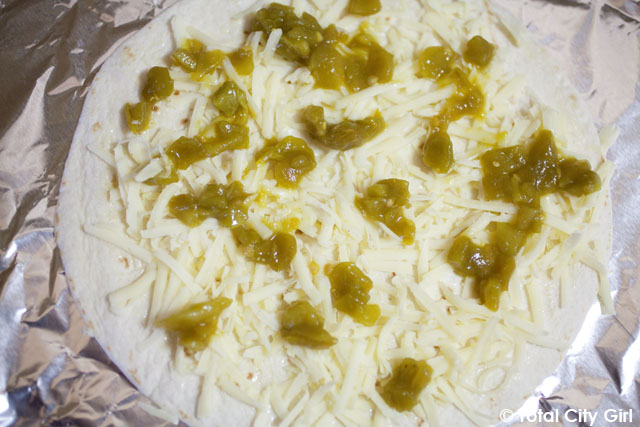 Put it in the oven for about 10 to 15 minutes.  I like it to get crisp around the edges but still be gooey and melty in the middle.
While it's cooking, I slice up the scallion and dice up the tomato.  The tomato I used was pretty large so I only used a quarter.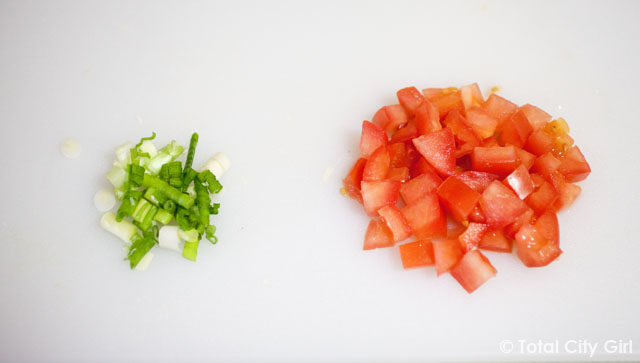 When the cheese is nice and melted, take it out,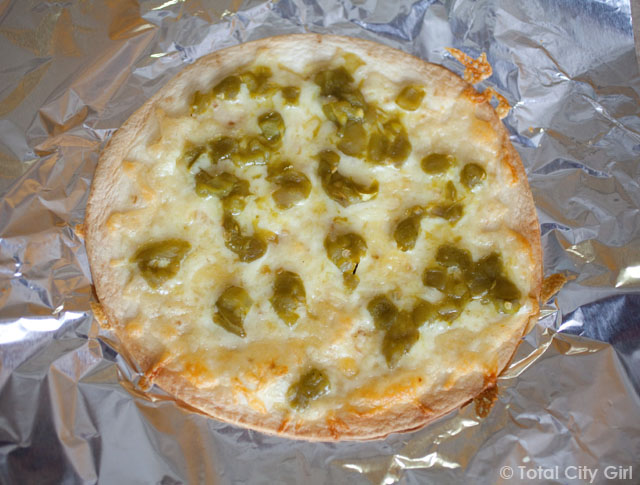 It's ready for the scallion and tomatoes.  That's it – you're done!
The tortilla should be crispy, the cheese gooey and then when you take  a bite, you get a punch of flavor from the chiles but because the tomato and scallion aren't cooked, it tastes really fresh.  I think fresh cilantro would be a good addition as well.  I just didn't have any.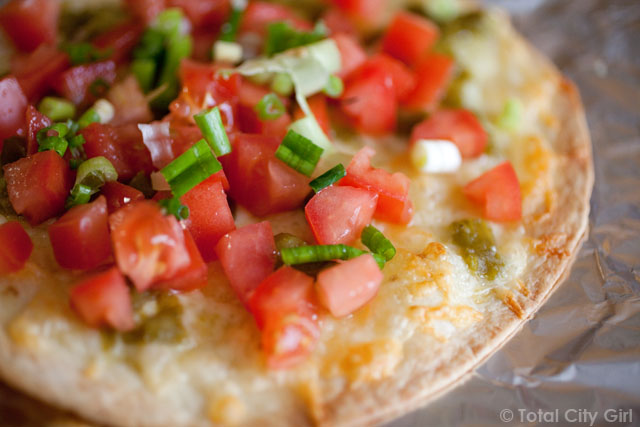 I eat it right from the foil!  Like I said – the less dishes that need to be done, the happier I am!
But to make it blogworthy, here you go – all plated up!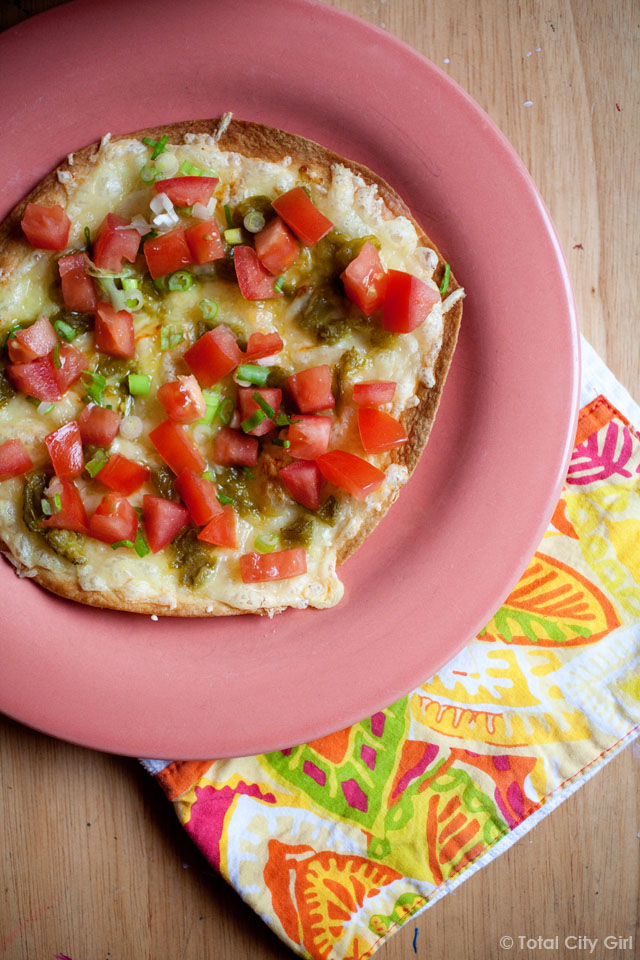 I'm going to have this for lunch today!
What are some of your favorite  CInco De Mayo inspired dishes?