How was your weekend?  Fun I hope.
Last week was comfort food week in my home – lots of cooking!  Beef Stew, Chicken & Dumplings, then ending the week with  Homemade Lasagna. All perfect dishes for this freezing weather we're having in NY.
Along with these hearty meals, I also made some bruschetta.  Not typically in the comfort food category but I absolutely LOVE it!!  What's not to love??  Tomatoes, basil, garlic and toasted bread.  I could eat it every day!
I've been making this for years now by dicing up a regular tomato   I had bruschetta at a restaurant in Florida and they used grape tomatoes.  I love grape tomatoes so now that's how I make it.  It's so easy!  Here goes…
Start with a container of grape tomatoes.  I use almost the whole container.  Depending on the size of he tomatoes, either cut each one in half or quarters.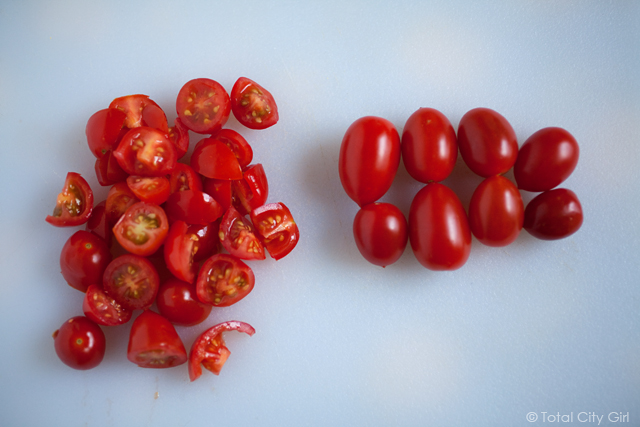 It's hard to believe I hated tomatoes up until I was 30.  Once I discovered grape tomatoes I was hooked.
Next you need some fresh basil.  I used 3 leaves, stacked them, rolled them and sliced into little strips.

The little strips remind me of the krinkle stuff I used to use when making gift baskets.  Memories…
Put tomatoes and basil in a bowl, season with salt and pepper then drizzle in a little bit of balsamic vinegar.  Balsamic vinegar has a strong flavor so a little goes a long way.  Last is a bit of olive oil.  Not too much – less than a tablespoon will do.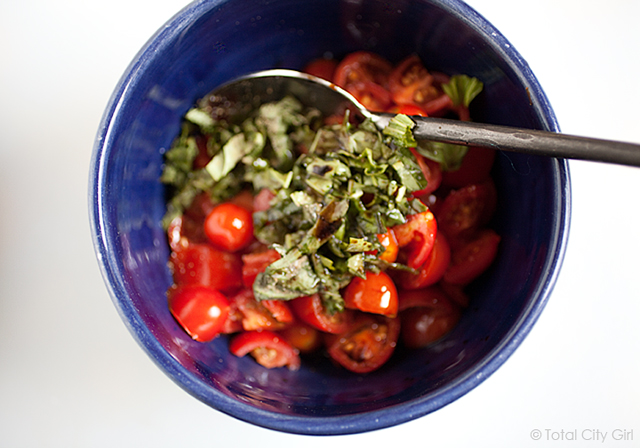 Mix it all up and get the bread ready.  I like to use either a crusty french bread or Italian bread.  Slice it up on the diagonal to make bigger slices.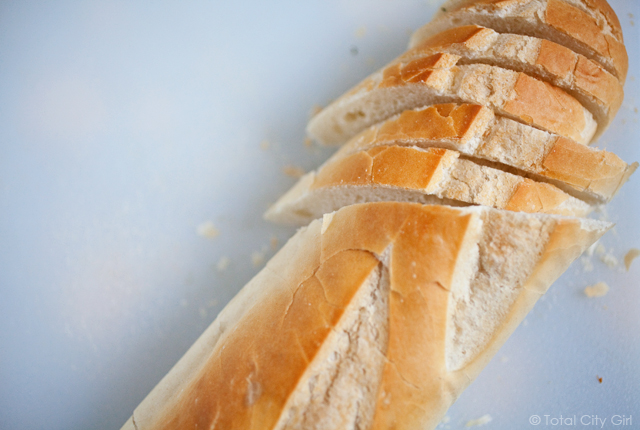 Brush a little olive oil on each piece.  If you don' have a brush just lightly drizzle each piece.
Toast it in the oven at 350 degrees for 5 o 10 minutes.  Just check to see how brown you like it.  I like mine like this…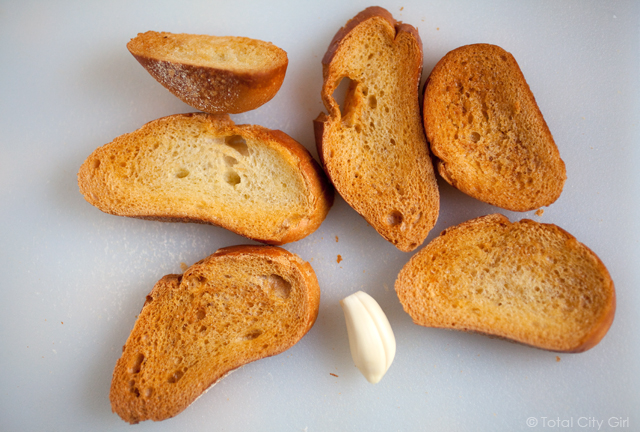 You can't have bruschetta without garlic.  You can either chop up some garlic and add it into the mix but if you don't like eating raw garlic but still want garlic flavor, rub a piece of garlic on each piece of toasted bread.  The heat from the bread soaks in the garlic flavor.  UH!  it is soooo delicious!  I'm a garlic freak.  Trust me on this.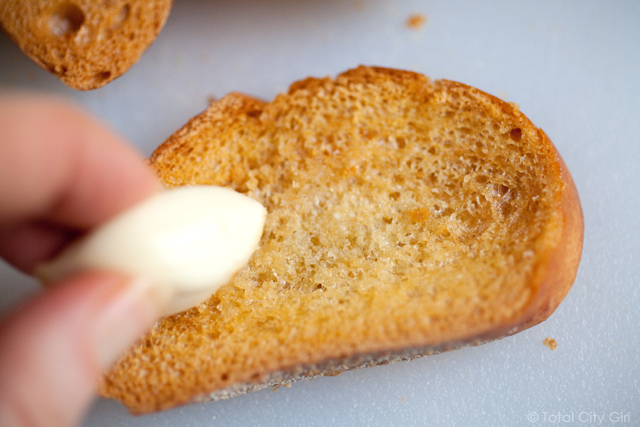 Pile up the tomato mixture and you're done!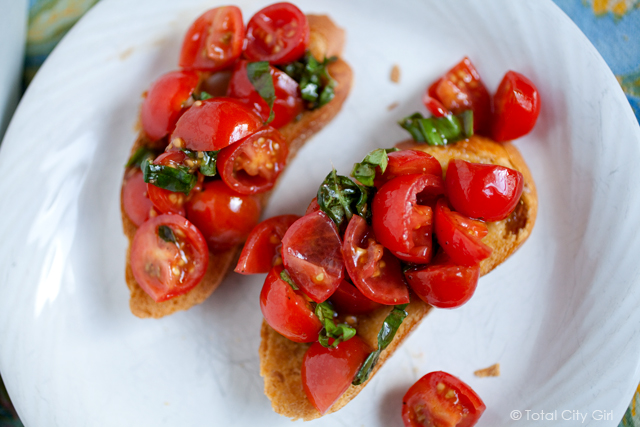 It's a perfect combination of garlic, tomato and basil paired with the crunch of the toasted bread.   Totally addicting!  Don't say I didn't warn you.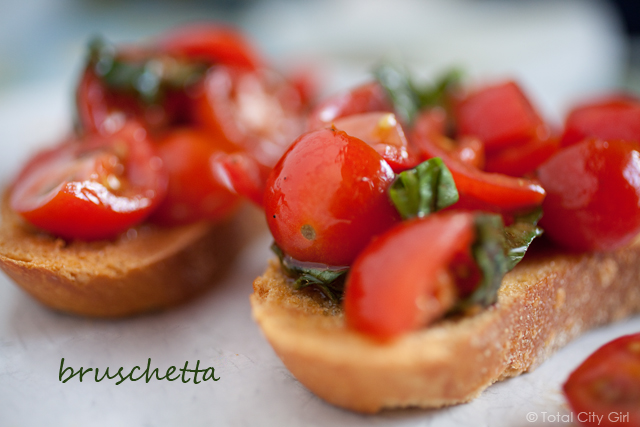 Do you like bruschetta?
totally addicting bruschetta
1 container grape tomatoes
fresh basil leaves
salt & pepper to taste
drizzle of balsamic vinegar
less than 1 tablespoon extra virgin olive oil
1 garlic clove
1 loaf of either French or Italian bread
Cut up the tomatoes and slice up the basil.  Mix in a bowl with salt, pepper, balsamic vinegar and olive oil.
Slice the bread, drizzle with olive oil and toast in an oven for 5 to 10 minutes at 350 degrees.
Rub the garlic on each piece of hot bread,
Pile up the tomato mixture.
EAT